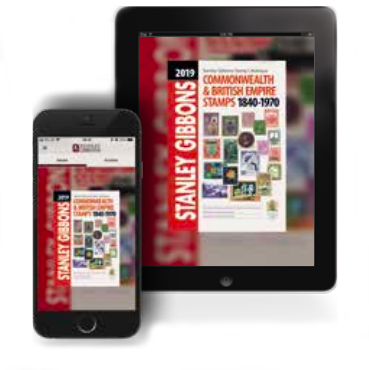 Stanley Gibbons has stepped into digital publishing this week with many catalogues now available to buy in PDF format. This means you can now view them on phones, tablets and PCs. This of course makes them somewhat more portable, especially if you always have your phone or tablet with you.
Gibbons have also updated their My Collection app to make use of the 2019 Stamps of the World data set and have made a host of changes and improvements based on user feedback.
Another benefit of offering digital is that the retail price is quite lower than the usual printed matter. For example the printed 2019 Commonwealth & British Empire is currently £89.95 whereas in PDF form it comes in at £62.95.
They themselves say and I quote:
The new Stanley Gibbons Digital offering is now available – bringing collectors and philatelists around the world, the possibility to access generations of philatelic expertise at the touch of a finger with instant downloads, a wide selection of subscription titles and access on a variety of platforms.


You can now access our world famous Stamp Catalogues PDF's on your desktop, mobile or tablet; access the 6 volume Stamps of the World set via My Collection, which also allows you to take your collection with you wherever you may be going, see the value of it or a single stamp at a glance and catch up with the latest issue of Gibbons Stamp Monthly all on your mobile, tablet & desktop and even when offline! Never before has it been so easy to access your collection and in such a manageable way.
Here's a link to further information on their blog:
Image Credit: Stanley Gibbons Ltd.
I am in no way affiliated with Stanley Gibbons, just a messenger 🙂