Forncett is a civil parish in the English county of Norfolk. It includes the villages of Forncett St Peter, Forncett St Mary and Forncett End. ~Wikipedia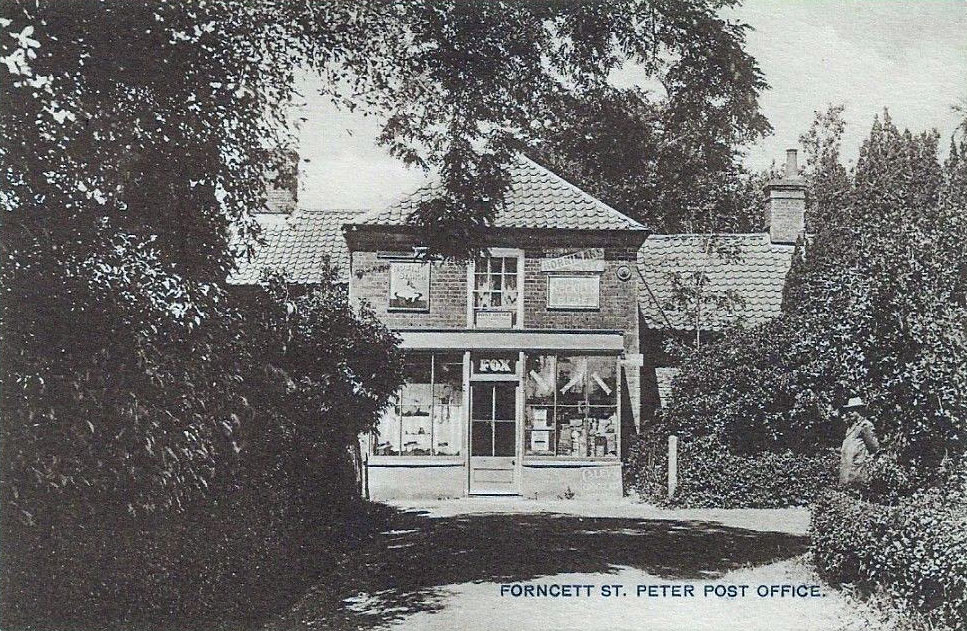 I think this is the building, it's difficult to see on Google Maps.
The pattress plate or anchor plate (the white disc to the right of front) seems to identify it, as well as the building structure – which has undergone some alterations.
Although the postcard reads "Forncett St. Peter Post Office", this building is located in Forncett End as we know it today.
I don't see it marked on the old OS map, but here is some interesting further reading about The Forncetts. On that page they say of old postcards…
In the case of Forncett, series of cards were produced both by Fox's stores in Forncett End and by English's stores in Forncett St. Peter.

https://www.forncetthistory.net/the-forncetts/
And indeed following on from that quotation, we can find in Kelly's Directory of Norfolk that David Fox was the postmaster of Forncett St. Peter in 1900. Also mentioned is one Thomas Falgate who was postmaster at Forncett St. Mary.
Here is a Forncett St. Peter postmark dated 1911 – from a separate postcard to the one shown above.